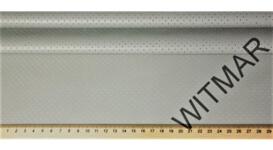  
SKG 5
Smooth perforated artificial leather
Description
Perforated artificial leather - punched-through. The perforation facilitates air circulation.
Perfect for central parts of ventilated or heated seats.
Excellent material for headliners in classic cars.
The perforation was made in the MK1 pattern. It is used in Mercedes, Opel, and Ford cars. The spacing between the perforations is 7.0 x 3.5 mm and the perforation diameter is 1.1 mm +/- 0.2 mm.
DIMENSIONS
Width 140 cm
When you buy 1 piece, you get 1 meter of material
Price per 1 meter